Introducing
Old Pal Ale
Classic
Return to the way it was, and always will be. 16 fluid Ounces. Best when coooold.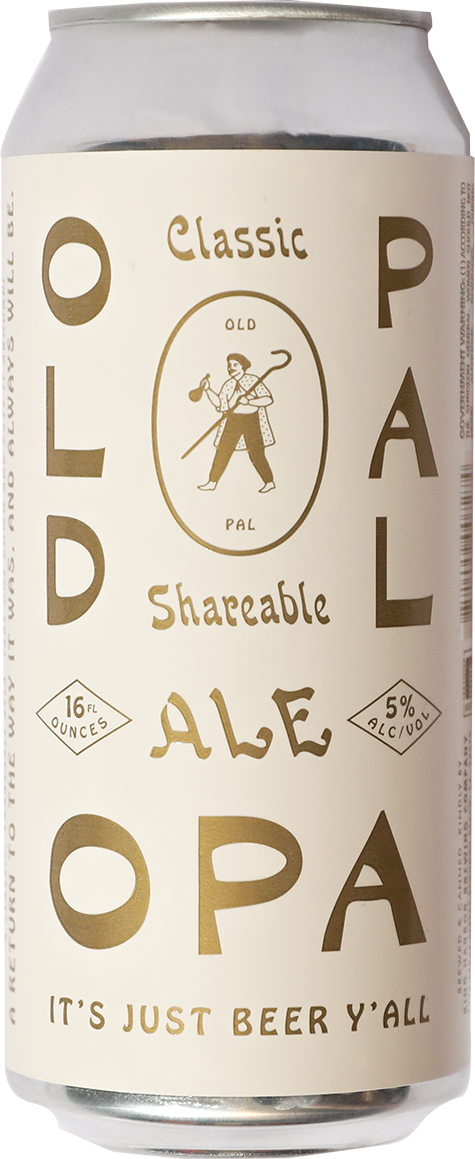 Shareable
Take one down and pass it around. It's just beer. 4.7% Alcohol by Volume. Better with friends.
It's just beer y'all
Old Pal Ale on Instagram
It's just beer y'all
Beer for the people
Old Pal Ale is all about bringing people together to share the pleasures of life. It's the kind of beer you can take on weekend getaways or just keep in your fridge for whenever pals stop by. With optimal drinkability and shareability, this high-quality brew captures the essence of everything Old Pal stands for: live free, spread love, and toast to the good times ahead.
Quality Suds
for You
and Your Buds
Easy Drinking Bliss
The new Old Pal Ale is a classic, shareable beer with supreme drinkability. Utilizing the finest ingredients and brewing techniques, this premium ale is light, crisp, and buzzing with good vibes. It's smooth and easygoing, never taking itself too seriously and always ready to be shared with friends.
After all...
It's just beer y'all
Where To Find OPA
Available in 4-Pack 16oz Cans — Pick-Up Only
Thurs

4PM-10PM

Fri-Sun

12PM-6PM
2907 182nd Street
Redondo Beach, CA 90278
(310) 542-8657
Sat & Sun

12PM-6PM
132 International Boardwalk
Redondo Beach, CA 90277
(310) 374-1400
Sat & Sun

12PM-6PM
1719 South Catalina Avenue
Redondo Beach, CA 90277
(424) 452-6063